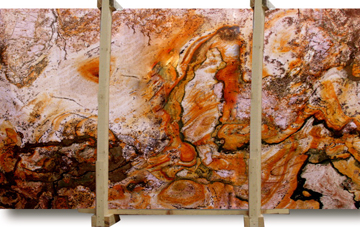 Granite slabs are not all created equal. For stone counters, here's what you need to consider before choosing stone and where to find granite slabs wholesale.
Granite slabs are the polished sheets of stone that your granite countertops start from.  So how do you choose which stone is best for your granite counters?
Besides the type of stone, color, and surface finish, you also need to know what size your slab is and how many are required.  Here are some tips on choosing the right stone.
What type of stone?
If you haven't already done so, check out Granite Facts to see how other natural stones compare to granite.  For kitchen countertops, natural granite still offers the most benefits – scratch resistance, stain resistance, heat resistance, and versatility.
Limestone and marble do not perform well in kitchens.  They do work well in bathrooms and other areas though.

Blue Granite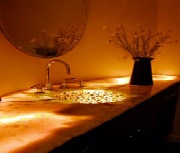 The stone you pick should be "first quality".  Lower grades of granite are sometimes offered as first quality but should be relegated to commercial work.  You should inspect slabs for cracks, scratches, fissures (cracks that don't go all the way through the stone), and imperfections.
All these may affect the quality of your countertops.  Also check out considerations for supporting counters.
What stone color should I choose?
Granite slabs come in a broad range of colors and patterns.  See Granite Colors. Choosing the right color for your stone counters is a matter of personal taste.
The characteristics and performance of granite can actually vary by the color of the stone.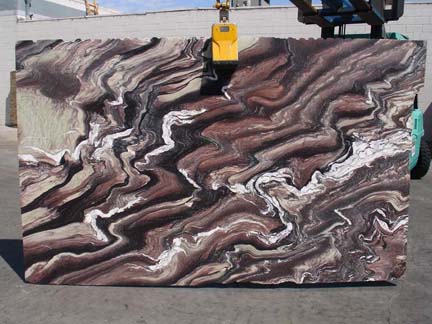 Exotic Color Granite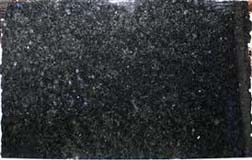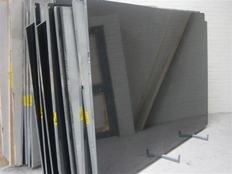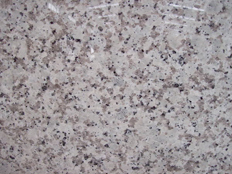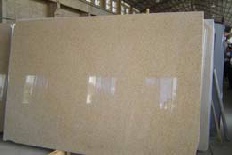 Granite islands and bar tops appear to float!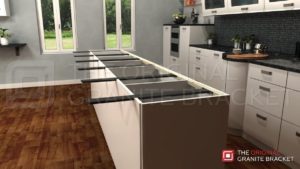 Heavy duty hidden supports for granite & quartz countertops plus
free shipping from The Original Granite Bracket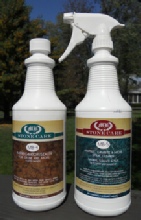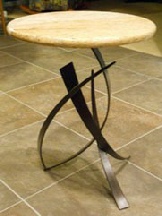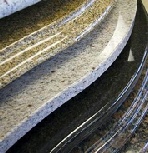 Surface choices
Although granite typically has a highly polished surface, other surface finishes are becoming popular.  Honed granite is a stone with a matte finish.
It does not shine and the color differs from the polished version. River washed or flamed finish offers a highly textured surface that can be visually appealing.  When granite has an unpolished surface, its stainability seems to change.
Honed black granite should not be sealed.  Instead a color enhancer/sealer product should be used.  Without this, spots and oil marks tend to show.
Slab size
When you choose your stone, you'll want to know how many slabs you need and what thickness of stone to buy.
An average granite slab size is about 9 to 10 feet wide and 5 to 6 feet tall (slabs are displayed vertically).
A typical slab may be 50 square feet but with waste and granite remnants, it may yield only 35 square feet of stone counters.  Most kitchens need multiple granite slabs – Countertops can be seamed.
The size of the slabs can affect how many seams end up in your kitchen counters and where they must be placed.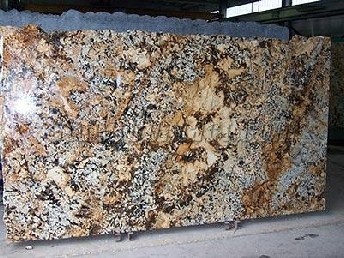 Patterned granite can be fragile
The thickness of granite is usually 2CM (3/4″) or 3CM (1 1/4″).  Each thickness offers a different look as a finished top.
In many parts of the country, two layers of 2CM stone are glued together to produce a 4CM thick countertop.  The resulting glue line often detracts from the beauty of the finished tops.
Slab sequence
If you need multiple slabs for your project, you will want to choose them from the same bundle.  Granite slabs are quarried, tracked, and shipped as sequentially labeled stones in bundles of 6 or 7 slabs.  Each slab in a bundle has comparable color and pattern to its neighbor.
Slabs that come from different bundles don't always look alike nor do they have similar colors.  They can have slight shade differences that become obvious at seams in finished counters.  Granite selection centers are quite aware of this fact, so don't be mislead.
Where to Shop
Stone suppliers offer you the ability to look at slabs, give you details about the stone, and make selections.  You typically cannot buy granite slabs wholesale.  Wholesale pricing is reserved for the fabricators who make the tops.
These stone centers display all the stone slabs vertically so you can see exactly what you're getting.  Countertop fabricators also may display and sell their own stone.  The selection may not be as great, but the cost may be less.
Be sure to call a fabricator first to see if they have stone or if they can get stone from the supplier.  Start with the Yellow Pages and look under the headings – Countertops, Kitchen Countertops, Marble and Granite, and Granite Suppliers.  Also check internet listings based in your city.  For example, google granite countertops and the name of your city.  Angie's List can also help with listings of approved fabricators in your area.
Shopping for your granite and choosing slabs can be very rewarding and sometimes a fun experience.  Knowing what to look for and how to evaluate the different stones will enable you to pick the best granite for your stone counters.  Also, make sure you ask for a granite warranty for your granite countertops.
Granite countertop faucets compared
See how to clean granite countertops daily to care for your new stone tops.
See the Buyer's Guide for granite slabs at the lowest price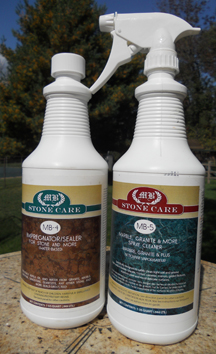 Granite Sealer & Cleaner Kits
The same great professional grade sealer and daily cleaner that we recommend, with the added benefit of major cost savings to you!  You need both products, so how about a discount when you combine them in one purchase.
Unlike silicon sealers, MB-4 will not evaporate or go through any type of natural deterioration.  MB-4 will prevent liquids from being absorbed by all natural stones.
MB-5 Marble Granite and More Spray Cleaner is your daily cleaner for natural stone including granite countertops.  Effortlessly and effectively clean your stone countertops without leaving any streaks.
Silver Kit – 1 Bottle MB5 & 1 Bottle MB4    $55.71

Gold Kit – 2 Bottles MB5 & 1 Bottle MB4    $68.72

Return from Granite Slabs to Granite Buyer's Guide