Granite or marble, which is best as countertop material? Granite is the choice for many applications due to its hardness, durability, and scratch resistance. Marble on the other hand is softer and can stain and scratch.
Knowing the characteristics of natural stones will help you decide which ones will suit your needs on counters. Don't just consider how the stone looks, or you could be very disappointed with your stone tops in no time.
Here are some answers to your questions on granite and marble countertops. And here's some helpful advice from Angie's List – 13 guidelines to hire the best contractors.
How to professionally seal granite countertops yourself
What is granite?
Granite is one of the hardest materials known. Quarried from mountains in Brazil, India, and Italy, to name a few, it consists of quartz, and feldspar.
Granite is igneous meaning it formed naturally as molten rock millions of years ago. Granite is igneous meaning it formed naturally as molten rock millions of years ago. And though you'll find a geological definition for granite, the commercial definition is quite broad.
All stones that perform, work, or behave like granite are called granite. The fact is, stones such as gabbro, diorite, and anorthosite are all called granite in the countertop world.
Why granite is the best material for countertops
Available in many striking striking granite colors and patterns, granite is well suited for countertops and high traffic areas because of its durability and longevity.
Other synthetic countertop materials scratch easily and can melt from placing hot items on them.
Granite, however, is heat resistant and nearly impossible to scratch. It will not stain under normal use and it's unaffected by citric acid, wine, tea, coffee and most anything else. See Granite Countertop Care for tips on stone countertop maintenance.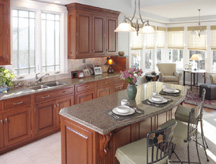 Also, granite is one of the best surfaces for resisting bacteria . . . although competitors of granite surfaces have mounted a campaign to convince consumers of the inherent dangers of granite.
Check out Radon From Granite Countertops to see the facts about radon and bacteria on granite and UV Wand to see how UV-C light can disinfect granite and marble.
The quality of granite counter tops goes well beyond the material itself. How the tops are made and how they are installed contribute to the benefits of granite countertops. For some frequently asked questions about granite tops, check out Granite FAQ.
Compared to quartz countertops, laminate, corian, and butcher block, granite has the highest overall rating of any countertop material. See Cambria for the best looking quartz counters.
How does granite compare to other natural stone?
Natural stone including limestone, marble, and granite, offers distinct advantages and disadvantages as countertops. Each has its own look and feel as well. Granite offers superior heat resistance, scratch resistance, hardness, durability, and stain resistance. Here's how other countertops compare . . .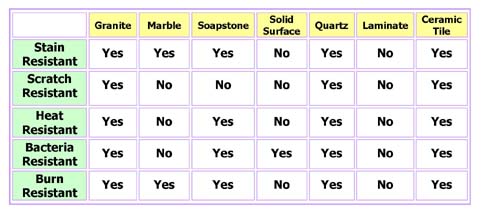 Countertop Materials Comparison
Onyx countertops pros and cons
How to clean slate countertops
Soapstone countertops pros and cons
How does granite compare to quartz as the best countertop material?
Natural quartz surface has been getting a lot of press lately as the best countertop material on the market. Fact is, quartz (or engineered stone) is non-porous, heat resistant, scratch resistant, and looks like granite. There is a major difference though.
Some brand names are Cambria countertops, Caesarstone countertops, and Silestone. Check out Granite Vs. Quartz to see all the differences between these two materials and more facts about granite.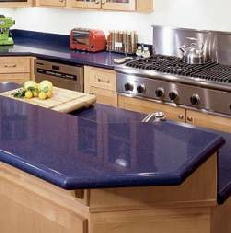 Marble and Granite countertops and tile backsplashes will always give you the natural, imperfect beauty you won't find in manmade quartz tops.
Questions? Contact GraniteCarePro
Angie's List Free Trial
Everything from car repair to medical providers. Angie's List free trial. Otherwise, click here for an automatic 45% discount using this Angie's List Promo Code.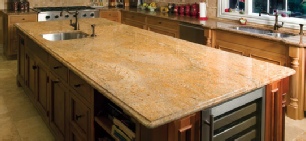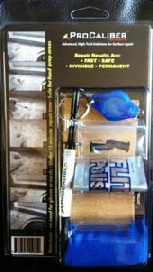 Only: $28.99 + FREE SHIPPING!
Revolutionary granite countertop repair kit is designed to permanently repair small chips, nicks, scratches, gouges, cracks and holes in virtually any natural stone surface. Advanced Light-Curing Acrylic (LCA) technology cures (hardens) in seconds.
Simple to use with professional results in less than 15 minutes. Granite repairs are chemically durable, impact and shock resistant and polishable to a high gloss. They will not yellow, chip, crack, shrink or dull over time. Suitable for indoor or outdoor use too! Kit comes with everything you need for 5 to 10 small repairs.
* Professional Results – Performs invisible repairs in a single application
* Minimal Drying Time – Complete drying (curing) in seconds or minutes, not hours
* Simple to Use – Gel material is moldable, sandable and can be polished to high gloss
* Non-Toxic – Suitable for food prep areas and good for the environment with no VOC's
* Durable – UV and Waterproof, Resistant to household cleaners, detergents, and chemicals

Click below for Angies List Coupon 45% off! Your discount is automatic only through this link.
Return from Best Countertop Material to Homepage