Wrought Iron and Steel
Granite table base designs made for heavy stone table tops are a functional and durable furniture solution, finding a place throughout your home or office.
Whether you're looking for granite table bases or granite table tops, these custom designed wrought iron table bases and hand forged steel granite tables are excellent design choices and the highest quality.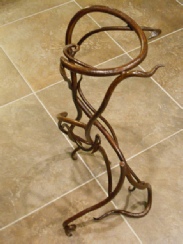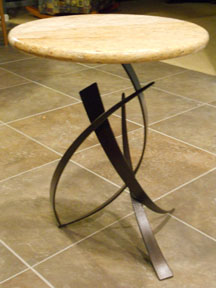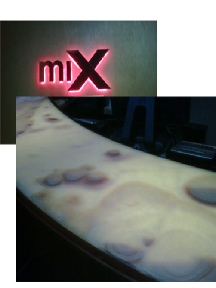 Click photos to see more Hand Forged Steel Table Bases For Granite
Why iron and steel for table bases? With an endless choice of colors and sizes, granite offers benefits not found in other tables . . . scratch resistance, heat resistance, stain resistance, and natural beauty.
But stone tables are heavy and demand not only support but solid, non-shaking support.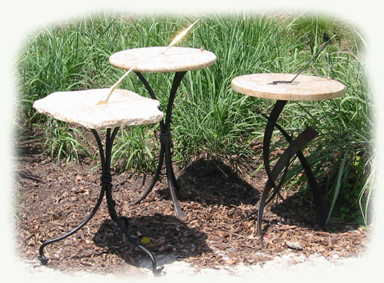 So what do you put granite table tops on? Granite table bases need careful consideration since they may have to support a lot of weight. Wood bases can look very attractive but may not be sturdy enough.
I have seen well built hardwood table bases that work great and perform great. Steel or wrought iron bases often make the best granite bases. They are strong, heavy, and offer many design options.
Check out the resources below for granite furniture and granite table bases.
Granite table tops combined with appropriate bases are both functional and beautiful. They also offer a versatile design element for your home.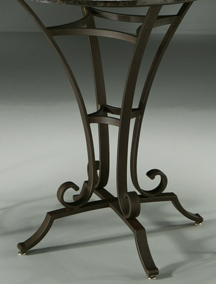 Custom Pedestal Table Base
Granite Table Tops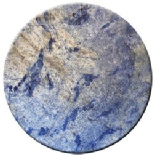 Granite table tops can be custom made from any kind of stone or they can be purchased from pre-made inventory.
Custom made granite tables can be any size or shape. They are typically made by a granite fabricator.
You decide the stone you want, the size you want, and the edge treatment you want.
There's a good chance your table can be made from "remnants" which will save you money.
You can expect to pay $30 to $50 per square foot for custom made granite table tops. Stock or pre-made granite tables can be a cost effective way to get granite end tables or granite coffee tables. A typical size might be 18 inches round.
For granite dining tables and granite kitchen tables, you may need to visit a local fabricator to find one large enough.
Also, shipping large granite table tops can be extremely cost prohibitive. Consider that a 36 inch x 60 inch granite table can weigh 300 pounds.
Here's a large selection of granite table bases to look at.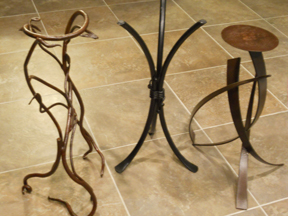 More granite table resources . . .
Click to see more Granite Table Tops
Click to see more Granite Table Bases
Return from Granite Table Base to Granite Tables