How to decide between quartz and granite? Why choose one over the other? Quartz countertops have been getting a lot of press as THE BEST countertop material on the market.
Fact is, quartz (or engineered stone) is non-porous, heat resistant, scratch resistant, and looks like granite.
It's a mix of crushed quartz and resin with a very uniform appearance. You hear it called by many brand names like Silestone, CaesarStone, Dupont Zodiaq, Avanza, and Cambria quartz.
Granite is still the countertop of choice, but quartz kitchen countertops are becoming widespread
So what is quartz countertop?
Quartz engineered stone is a man made product that consists of 93% quartz and 7% pigments and resins. In contrast, granite countertops contain no more than 50% quartz.
Industry wide, all granite quartz tops are made with the same process and equipment. Breton is the name of the Italian company that developed the process and the machines.
The process combines crushed quartz, resin, and pigments in molds where it is heated and vibrated. The resulting quartz surface slabs are solid and impervious to stains, moisture, and bacteria.
Silestone brand even boasts Microban in its countertops to prevent bacteria growth on the counter surface.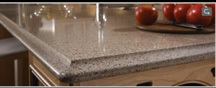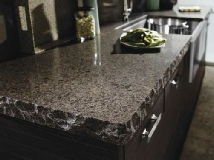 See how easy it is to care for quartz tops.
Quartz Warranty
Warranties for quartz countertops vs. granite are obvious – granite does not come with a warranty.
Silestone, Cambria, CaesarStone and all the other quartz countertop companies are able to offer a 10-year limited warranty on their countertops because they all use the same process to manufacture with consistent quality.
The strong, dense nature of engineered stone tops also allows for greater overhangs than granite without fear of cracking or breaking – See Quartz Countertop Supports.
On the other hand, granite has no national brands behind it and warranties are seldom offered.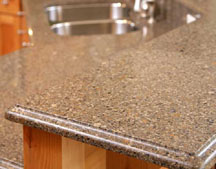 Warranties (See Granite Warranty) are still more of a sales tool than a form of protection.
For example, the Silestone warranty states – "warranty does not apply to color variances, thermal shock, chemical abuse, or defects caused by fabrication, misuse, or improper installation".
Silestone and other quartz products are warranted to be free of manufacturing defects only.
Cambria Countertops
So the warranty only covers the raw material not the work associated with making it into a countertop.
For all the advertised benefits of engineered stone, the details in the sales literature paints a different story. Silestone claims to be stain-resistant and it . . . "does not need to be sealed or pampered" like granite.
For maintenance, though they state, "Bleach is recommended for stubborn or difficult stains" in Silestone. As for scratch resistance, their literature states . . . "it shouldn't leave a mark". And although it's heat resistant, the literature states, "we recommend protecting your Silestone surface".
The appearance of quartz counters varies by color and size of the quartz pieces. CaesarStone now offers semi precious stones in the mix for even more dramatic looks.
The swirling patterns of real granite still elude all makers of quartz stone. Quartz countertops also lack the three dimensional depth only found in real granite.
And even though quartz surface is a manufactured product with strict quality control standards, you will still find imperfections in the slabs which must be eliminated from the finished countertops.
As a granite countertop fabricator and installer, I was approached by Angie's List but it wasn't for a paid listing. When dealing with contractors of any kind, quality referrals are your best way to avoid frustration and hassle.
Consider a referral source like Angie's List to help you find any kind of contractor, not just granite fabricators and installers.
Angie's List has been around for over a decade and contractors cannot pay to be listed or referred. I use Angie's List myself, everything from car repair to medical providers.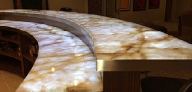 You can backlight quartz if the quartz you choose is translucent. Shown here is an Onyx countertop backlit with LED panels.
Granite vs. quartz – Why quartz countertops are better than granite
Our company fabricates countertops with quartz surface – specifically Silestone, and CaesarStone. We learned the hard way about the inconsistency of quartz. The manufacturers tell you each piece is identical in color and appearance to the samples on display.
The fact is, if you cut countertops from different manufactured lots of the same color, the tops will be decidedly different in color and texture. We have to be very careful to use only slabs from the same bundles. It's the same way with granite, which understandably varies from slab to slab – See Granite Slabs.
The strength of quartz makes it easier to handle and fabricate than granite. It does not need rodding to protect cutout areas from cracking. It rarely chips and the cuts are very clean. Installing quartz tops requires the same skills and techniques as granite. Seams in quartz tops are usually barely noticeable because the surface is so consistent compared to granite.
Actually, quality of seams is more a function of the installer's skill than the consistency of the raw material.
Quartz Price
Quartz tops cost
is comparable to granite. You can expect to pay between $35 and $85 per square for for installed tops – See Lowe's for local countertops.
Performance
Quartz surface performs very well as a countertop. It delivers the benefits of heat resistance, scratch resistance, and stain resistance in a product that looks attractive.
Properly selected granite that has been sealed if it needs it (See Seal Granite) performs just as well as quartz surface. Granite countertops cost about the same as quartz. The only real difference is that granite and natural stone look better.
They look like real stone because they are. When provided with the facts, almost every one of our customers chooses granite over quartz counters. We have no vested interest in providing quartz vs. granite.
I truly believe Silestone and other quartz products are excellent choices for countertops. These tops withstand a lot more than their own sales literature gives them credit for. So which is better comparing quartz counters vs granite?
To say quartz is better than granite countertops creates a misconception. Misconceptions about caring for granite combined with enormous advertising strength of the quartz surface brands is what drives the growth of quartz countertops.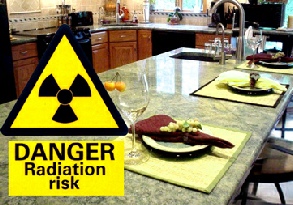 Radon From Granite Countertops?
Do quartz counters carry the same danger? Here's what you should know – Quartz Radon.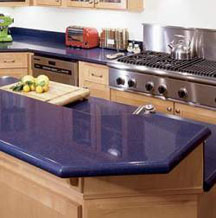 CaesarStone Countertops
How Do Limestone Counters Differ From Marble?
Are Slate Countertops Harder Than Marble?
Will Onyx Countertops Scratch?
Why Are Soapstone Countertops Are Better Than Marble In A Kitchen?
Return from Quartz Countertops to Countertop Materials