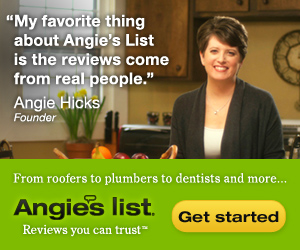 Find quality contractors with Angie's List and save money off membership with an Angie's List promo code or even an Angie's List Free Trial if it's available in your area.
Here's my experience with Angie's List – As a granite countertop fabricator and installer, I was approached by Angie's List over 12 years ago for what I thought was paid advertising or worse, a scam. I said NO. (What Is Angie's List?)
Then I discovered that they weren't asking for any money from me. Instead they wanted to provide their members an honest evaluation of my company and others.
For 12 years now, I've been a real fan. Here's why … even with all my contacts in the building trades, you'd think I would have no problem getting quality work and results from local contractors in my OWN home. But that hasn't been the case. Angie to the rescue.
At the time, I just viewed them as another advertising company trying to get me to spend money. They made it difficult, however, because they weren't interested in getting me to write a check for a recommendation.
In fact, none of the reviewed or recommended contractors EVER pay to be listed. Find Kitchen & Bath dealers with Angie.
Return from Angie's List to Granite Care Guide