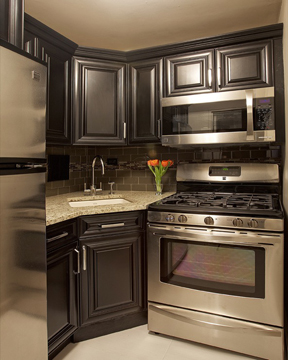 Tired of the same old kitchen? Here are kitchen remodeling tips and tricks that will save you money and let you avoid the headaches of a whole new kitchen remodel.
With the average cost of a full kitchen renovation at $30,000, try these quick and easy updates for a great remodel on a budget. Also, be sure to protect your countertop investment and get a warranty for your granite countertops.
DIY Kitchen Remodel Ideas
1. Add a New Gadget
No need to buy new appliances, add something fun and functional like a juicer or a Keurig 2.0 Coffee Maker.
2. Add Table Lamps
Put a table lamp on your dining table or on your kitchen island countertop. It changes the look and makes the room look less sterile.
Kitchen Remodeling Help From Angie's List
3. Switch out Hardware
Replace you cabinet pulls. This can have a dramatic change. Doesn't cost much and it's easy to do. The effect can be pronounced. Click new looks in countertop supports.
4. Transform Your Tiles
Change the look of your backsplash with tile decals. These stick on designs can cover up outdated features on your current tiles. Check out Mibo Tile Tattoos from 2Jane.com or Zazzle.com for vintage tile stickers.
5. Update The Kitchen By Mixing Up Seating
For a bold, exciting look, mix up your seating with cushions of different colors. You can even try 2 different styles of chairs at the same table.
6. Hang Mirrors
Hanging a mirror will add extra light and open up your kitchen.
7. Refresh Your Cabinets
Try painting the inside of your cabinets a complimentary color. You can then remove the doors or replace some with glass fronts.
8. Suspend Pots and Pans
This is a great kitchen tip. Free up space in your cabinets while adding style and accessibility to your pots and pans by suspending a pot rack.
Check out bathroom remodeling tips on a budget!
How to choose the best faucet for granite countertops.
New kitchen makeover
Depending on your skills, there are certain renovation projects that you can tackle yourself and realize true savings over what a pro would charge.
For example, where a pro would charge $4,532 for a minor remodel, a recent Harvard University housing study shows you could do it yourself for only $1,490. A minor bathroom remodel done by a pro would cost $2,160, but you can do-it-yourself for only $816.
(Kitchen Remodel Idea: Don't forego upscale features in your kitchen remodel such as granite countertops. Instead, save money by choosing a less expensive granite edge treatment. Squared off or "eased edge" is the easiest edge to produce and can save as much as $1,000 on the cost of stone countertops.)
Here are ideas for sinks and faucets for your kitchen remodel . . .
Granite sinks … Granite faucets … Onyx sinks.
Kitchen Tips For Countertops
Quartz kitchen countertops are the "hot" item for kitchens again this year. But what about good ole natural stone and granite countertops? Before you choose quartz counters, be sure to consider the differences.
Our company fabricates and provides both quartz tops and granite tops, so we do not have a vested interest in one over the other. (Now if you say you're considering Formica tops, I'll be biased). Quartz Vs Granite will help you decide.
Quartz Vs. Granite In The Kitchen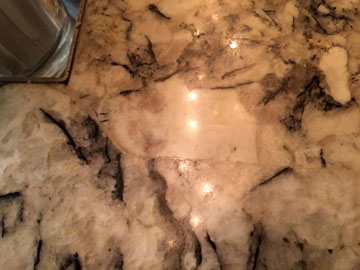 Granite Kitchen Countertops – Perfect Granite Seam
The AmeriSink granite kitchen sink (and probably your sink too) is made of type 304 series alloy stainless steel, featuring the highest quality 18/10 chrome-nickel formulation. It is elegant, heavy-duty, 18 gauge, hygienic (non-porous material is), rust-free, and extremely durable. The gauge is the thickness of the stainless steel. As a rule of thumb, the lower the number of the gauge, the thicker and better the stainless steel.
Kitchen Sink Care
HOW TO TAKE CARE OF YOUR STAINLESS STEEL SINK
Clean stainless once a week. wipe the sink dry with a clean soft cloth, working with, not across, the grain; this will inhibit water spotting and mineral deposits in severe hard water conditions.
All Purpose Cleaner, Kitchen Cleaner, Formula 409 (follow the directions on the product) are products available in hardware and grocery stores that can be used every day to protect, polish and clean your stainless steel sink. Professional granite maintenance products should be used on natural stone surfaces.
WHAT NOT TO DO: . . . Read more stainless steel sink care.
HOW TO CLEAN STAINLESS STEEL APPLIANCES
Check out single serve coffee makers for your new kitchen. The Dolce Gusto Circolo and the line of Keurig Coffee Makers which offer a reusable coffee filter. Use your own coffee instead of spending on all those k-cups.
Kitchen Remodeling Help
For more kitchen remodeling help, see Houzz kitchen pictures, Budget Shrinking Kitchen Remodel Ideas and Galley Kitchen Design Ideas.
Best Kitchen Remodeling Tips on Pinterest
Pinterest Kitchens
Kitchen Makeovers and Updates
10 New Countertop Combinations For The Kitchen
Mix materials for kitchen countertops and kitchen islands to provide more colors, more textures, and more interest. You can also save money with a less expensive material for the perimeter tops and a more luxurious, expensive material on the island or accent areas.


Home Design Tips & Tricks
Recently in the Wall Street Journal, architects and builders offered solutions to common home design mistakes. Here are a few:
Problem – Shower floor made from single slab of granite or marble. Solid unbroken stone becomes slippery when covered with soap and water.
Solution – Use tiles measuring 4 x 4 or smaller. Small tiles combined with grout lines cut down on slipperiness.
Problem – Installing a large kitchen island without considering appliance placement. Granite islands may become roadblocks to maneuvering between appliances in your kitchen.
Solution – Place the pantry around the corner from where the appliances are since you won't need to access it as much as appliances.
Are you considering limestone countertops in your kitchen? Limestone vs. granite will help you decide.
Return from Kitchen Remodeling Tips to Homepage