Granite Transformations tops never need sealing and they're 100% granite with a binder. So is Granite Transformations better than granite?
They offer granite "cladding", meaning their countertop products are installed as veneers over your existing tops or kitchen backsplashes and don't require demolition, mess, or downtime like slab granite installs. They also claim to be the largest countertop manufacturer in the world.
Trend Stone, the brand name for the engineered granite counters, supposedly outperforms typical granite countertops because they're non-porous, resist stains, and need little maintenance. It resists wear, stains, chemicals. It's frost resistant and light weight.
The veneers come with a lifetime limited warranty on the material, compared to granite warranties which are hard to find. For small countertops, you can save money using leftover granite pieces from a granite fabricator in your area.
Sealing Trend Stone
These granite veneers are heat, scratch, and stain resistant because they are produced with ForeverSeal®. Slab granite countertops require granite sealer to resist stains. Trend Stone never needs any sealer.

Kitchen and bath granite
Trend Stone is used for kitchen countertops, bathroom vanities, tubs, fireplaces, flooring, and shower walls. The granite veneers cover virtually any surface.
No messy demolition required to install
No downtime – 1 day installation
Resists heat, cold, scratches and stains
ForeverSeal® eliminates the need for sealing
Wide color choice – more than 50 colors to choose from
Durable with a lifetime limited warranty
Faster projects
Franchisees both fabricate and install all products
Manufactured in the USA
Granite Transformations Deals
Through Valpak.com you should receive offers for work done on your home. Currently, GT offers a $300 Off coupon that should be available to you through the mail.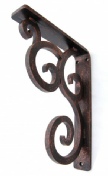 Dress Up Your Kitchen With These
Handmade Corbels For Granite Countertops
You need solid support for stone tops. Here's a selection of handmade, wrought iron and steel brackets and corbels for granite countertops all made in the US.
Each is designed to support the weight of stone counters, but styled to compliment your kitchen . . . More Countertop Supports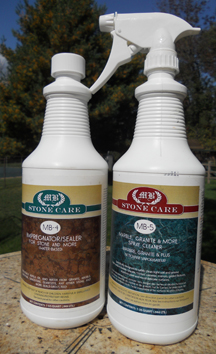 Granite Sealer & Cleaner Kits
The same great professional grade sealer and daily cleaner that we recommend, with the added benefit of major cost savings to you! You need both products, so how about a discount when you combine them in one purchase.
Unlike silicon sealers, MB-4 will not evaporate or go through any type of natural deterioration. MB-4 will prevent liquids from being absorbed by all natural stones.
MB-5 Marble Granite and More Spray Cleaner is your daily cleaner for natural stone including granite countertops. Effortlessly and effectively clean your stone countertops without leaving any streaks.
Silver Kit – 1 Bottle MB5 & 1 Bottle MB4 $55.71

Gold Kit – 2 Bottles MB5 & 1 Bottle MB4 $68.72

Return from Granite Transformations to Granite Buyers Guide