So where do you find the best granite fabricators? Better yet, how do you know if they are really that good? Here are 8 simple things to look for when choosing a contractor to make your granite countertops.
The list of granite fabrication and granite installation contractors grows daily. But I wouldn't say the list of qualified contractors is growing.
Demand for granite countertops has increased dramatically which has attracted contractors and granite suppliers with limited experience and poor business skills, all in search of profits.
Use Angie's List to choose the best granite fabrication and installation contractor.
8 Things To Look For In A Granite Fabricator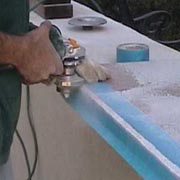 So what are some things to look for? First, how many years has the granite fabricator been in business. Good work is rewarded with more work.
A contractor just starting out is a risk even if they've been working in the granite business for someone else.
1. Does the contractor perform both fabrication and installation? Even though the skills required for these two activities are different, having the same company responsible from start to finish is critical to get a problem free installation.
2. Will the contractor educate you about natural stone and granite countertops? Someone who knows the business well should enjoy imparting knowledge on you. See granite and marble FAQs.
3. Does the contractor have a facility with an inventory of stone (preferably indoors out of the weather)? A showroom with examples of their work is also good.
4. Is the contractor knowledgeable about proper stone care? Most contractors are still somewhat misinformed when it comes to stone care and maintenance. They are not scientists. If they do know the right way to care for granite, that's a definite plus.
5. Does the contractor do quality work? New buyers of granite as well as homeowners who already have granite often do not know what a quality installation looks like. Some quality issues are obvious. Others are not. Click here to see what makes a granite countertop install a quality job. Only quality contractors will share this info with you.
6. Does the contractor offer any kind of warranty?
Is there a list of references you can call. Granite warranty.
7. Can you visit them?
8. Will the contractor make you a deal on price?
Compare prices from two or more granite fabricators. Pick a contractor you want to do business with and ask them for the best price. Granite countertops are an investment so take the time to make a wise decision. Educate yourself. Visit with contractors.
Determine the quality of their work. Choose the fabrication contractor that you feel most comfortable with. Then negotiate the granite price.
How to find granite suppliers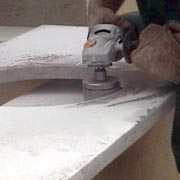 You can find granite suppliers from many sources. The yellow pages list the granite contractors in your area who advertise.
Look under the headings – Countertops, Kitchen Countertops, Marble and Granite, Granite Slabs and Granite Suppliers for starters.
Maybe you want to do business with someone close to your home who knows your area.
Call a few and tell them you're considering granite countertops but that you want to be educated on granite and the process involved to get the best countertops.
You'll often find contractors who you cannot work with based on this simple request. You may find a contractor who you feel comfortable with and gains your trust.
Another way to find a contractor is through referrals from friends, realtors, or people you may know in the construction business. You may hear about good experiences and bad experiences which can affect your decision.
Be sure to check with the Better Business Bureau to see if any contractors you are interested in have valid complaints against them. The BBB can be more objective and more valuable than a referral.
Call granite slab suppliers in your area. They won't sell to you, but they can refer fabricators and granite installers. You can also visit these suppliers and see all the granite colors available for your job.
The Marble Institute of America (MIA) is the trade organization that serves the granite industry. They offer a database of members who adhere to a code of ethics in the business.
Even though membership only requires that the contractor has been in business for a certain period of time, agrees to the code of ethics, and pays the membership fee, the list does provide contractor names for you to contact.
Do-It-Yourself Granite Fabrication Videos
How to Cut & Polish Granite Countertop – This is part of a 28 minute video on DIY granite fabrication.
How To Profile & Polish Granite Countertop – Here's another video showing how to fabricate granite yourself.
How to Install a Granite Countertop – Learn how to install granite countertops from Ron Hazelton. Shows how to template, fabricate granite, and install stone countertops.
More granite fabrication articles and resources
Granite Support Brackets For Your Countertops
Why Do Your Countertops Need To Be Rodded?
Granite Colors And Granite Slab Selection Guide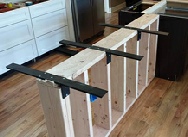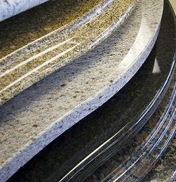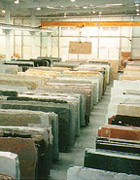 Granite slabs at the lowest price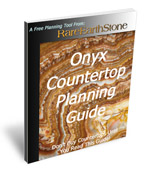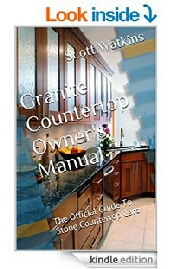 "Here's the Granite Countertop Owner's Manual that you won't get with your new countertops!"
Care, cleaning, and troubleshooting stone countertops.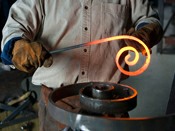 Handmade Corbels For Granite Countertops
You need solid support for stone tops. Here's a selection of handmade, wrought iron and steel brackets and corbels for granite countertops all made in the US.
Each is designed to support the weight of stone counters, but styled to compliment your kitchen . . . More Countertop Supports
Helping you find quality fabricators
As a granite countertop fabricator and installer, I was approached by Angie's List but it wasn't for a paid listing. When dealing with contractors of any kind, quality referrals are your best way to avoid frustration and hassle. And it's why you should consider a referral source like Angie's List to help you find any kind of contractor, not just granite fabricators and installers.
Angie's List has been around for over a decade and contractors cannot pay to be listed or referred. Even though I've been in the building trades for years, I use Angie's List myself, everything from car repair to medical providers. If you can get it, try the Angie's List Free Trial otherwise click here for an automatic 45% discount using this Angie's List Promo Code.
Return from Granite Fabricators to Granite Install Guide