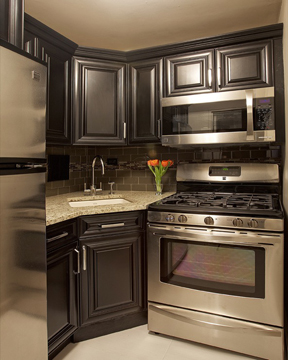 I finally found a stainless steel appliance cleaner that does what it says it will do – clean quickly and easily without streaking . . .
Weiman's Stainless Steel Wipes
These Weiman wipes are the best way to clean stainless steel appliances. Great for everyday cleaning too, Weiman Stainless Steel Wipes instantly shine dull, faded countertops by removing grease, grime, water marks and surface stains in one easy step.
These wipes are formulated for stone surface countertops like granite, marble and natural quartz surface, however, Weiman wipes are excellent for cleaning chrome, fiberglass, microwaves, stainless steel and much more.
Daily use actually prolongs the life of your countertops and keeps them looking great. And you can't beat the ease and convenience of a wipe.
INSTRUCTIONS FOR USE:
Daily use actually prolongs the life of your countertops and keeps them looking great. And you can't beat the ease and convenience of a wipe. Daily use actually prolongs the life of your countertops and keeps them looking great. And you can't beat the ease and convenience of a wipe.
How To Clean Stainless Steel Sinks
The AmeriSink stainless steel sink (and probably your sink too) is made of type 304 series alloy stainless steel, featuring the highest quality 18/10 chrome-nickel formulation. It is elegant, heavy-duty, 18 gauge, hygienic (non-porous material is), rust-free, and extremely durable. The gauge is the thickness of the stainless steel. As a rule of thumb, the lower the number of the gauge, the thicker and better the stainless steel.
HOW TO TAKE CARE OF YOUR SINK?
Clean stainless once a week. wipe the sink dry with a clean soft cloth, working with, not across, the grain; this will inhibit water spotting and mineral deposits in severe hard water conditions.
All Purpose Cleaner, Kitchen Cleaner, Formula 409 (follow the directions on the product) are products available in hardware and grocery stores that can be used every day to protect, polish and clean your stainless steel sink.
WHAT NOT TO DO:
Do not use any abrasive sponge pads, wire brushes or Steel Wool.
Cleaners containing Chloride are not recommended, as these products will dull and tarnish the finish.
SURFACE RUST & STAINS:
Stainless steel does not rust.
FLITZ & BAR KEEPERS FRIEND are all effective at removing "surface" residue such as: tarnish, rust, lime deposits & hard water stains.
SCRATCHES:
Scratches are inevitable in any sink material, including stainless steel. Over time, these scratches will become uniform with the sink's grain.
For severe scratches, secure a pumice rubbing compound from a hardware store, and follow the directions on the package. Note: Once the sink's finish has been restored to your satisfaction, AmeriSink recommends the purchase of a customized sink grid to protect the bowl's bottom.
How To Clean Granite Countertops Naturally
You can clean and add shine to your granite countertops with isopropyl rubbing alcohol. It evaporates quickly and will be gone before you know it, so be careful.
I've also seen recommendations which combine rubbing alcohol, a couple of drops of dishwashing detergent and water. I find that detergent leaves some residue behind.
But try both, rubbing alcohol alone or rubbing alcohol, detergent, and water. Judge for yourself.
Now regarding what the "experts" tell you . . . Most granite installers have no clue how to clean granite countertops or how to properly maintain the stone they install and clean.
This is obvious when they recommend generic granite cleaner or home-brewed concoctions for daily care of granite counters.
For true expert tips on cleaning granite countertops, click GraniteCarePro.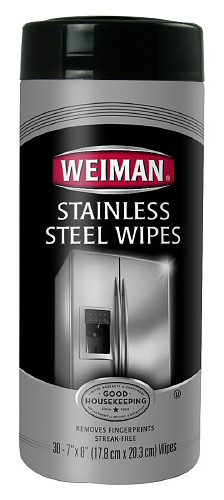 Stainless Steel Wipes

EPA Certified "Green" Granite Cleaner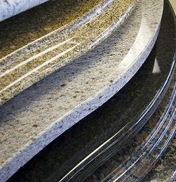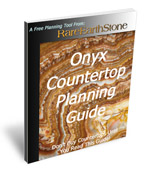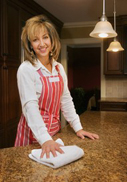 Stainless Steel Sink Cleaner
Clean your sinks with the same cleaner you use for your granite tops.
What you read about granite care products can be misleading and vastly overstated.
Cleaning granite countertops should only be done with specialized cleaners, not Windex or ammonia and never plain soapy water.
MB-5 Marble, Granite and More Spray Cleaner from MB Stone is the only stone cleaning product our granite countertop company ever uses or recommends.
You can effortlessly and effectively clean your stone countertops without leaving any streaks. Safe to use on stainless fixtures and sinks as well.
GT-1 Natural Stone & All Surfaces Cleaner is the new EPA Certified "Green" Cleaner, just as effective and easy to use as MB-5.
You should clean your counters daily using a specialty product for stone, such as MB-5 or GT-1.
Use it full strength on the cooking and eating areas. Use it diluted in a proportion of 1:1 with water in lighter duty areas. This 32 Oz. bottle really goes far.
Note: We provide this to all our customers as part of a stone care kit when we install new countertops and when we show them how to clean granite.
Order one or two bottles today!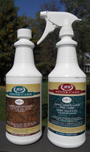 Granite Care Products
Return from Rodding Granite to Granite Buyers Guide