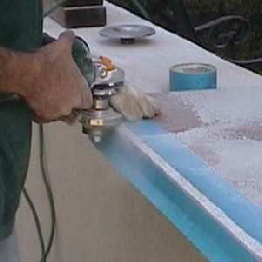 So how are granite counter tops transformed from a chunk of rock in the earth into perfectly fitting kitchen counters in your home? Well, it's not rocket science. But the stone in the mountain does go through many steps on its way to becoming stone counters.
First, the stone is knocked off the side of a mountain in large chunks. Most granite in the US comes from far off lands like India, Brazil, and Italy. Some very rare stones, for example blue granites, are even mined under the ocean (translation – very EXPENSIVE)
The large chunks are cut into blocks and the blocks are "sliced" like bread into slabs using huge saws. The slabs are numbered and kept in sequence so they are matched to each other.
One side of each slab is polished with diamonds to reveal a unique and colorful face. The slabs are shipped to the US ready to be made into countertop granite.
Templating Granite
After you select your granite slabs and all your other countertop choices are made (granite sinks, granite edges, appliances), it's time to make templates. Cabinets also need to be attached and level.
Templates or patterns are made on your cabinets out of materials such as wood strips, cardboard, and masonite. Newer electronic templating systems are now used as well. These templates represent the actual size and shape of your granite counter top. This allows for a perfect custom fit.
The templates show where holes (cutouts) will be for sinks and appliances. They show where granite seams and granite backsplashes will be. And they show which edges get polished. Any notes that will help back in the shop can be written on the templates.
By the way . . . the maximum distance that granite counter tops can span between support brackets is 24″ for 1 1/8″ (3CM) thick stone. 3/4″ (2CM) thick stone needs to be mounted on a 3/4″ underlayment to support this same distance. Granite counters can overhang 10″ for 1 1/8″ thick stone and 6″ for 3/4″ thick stone without supports.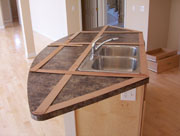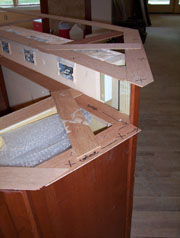 Fabrication
Granite kitchen counters are fabricated. In other words, a fabricator cuts and polishes stone slabs to create custom countertops. Fabrication starts with inspection and layout of the granite slabs.
The fabricator marks on the slab where granite cracks, fissures, and imperfections are. Anything that might affect the integrity of the stone should be avoided. The templates are then placed on the slabs to find the best fit and outlined for cutting.
See Granite Fabricators.
Handling Stone
Remember, granite slabs started out as massive chunks of solid stone. Nature never planned to have granite cut like bread into 3/4″ or 1 1/8″ thick slices. So even though granite is a strong, durable countertop, it's quite fragile until it's been fabricated and installed on cabinets.
Granite slabs can be as large as (11) eleven feet wide and (7) seven feet tall. They weigh as much as 1500 lbs. Slabs are always transported vertically using cranes and forklifts.
Cutting Granite
Granite slabs are cut into individual pieces using large saws with diamond-coated blades. Since granite is so hard, diamonds are just about the only thing hard enough to cut through it.
Cutting granite with a saw leaves a smooth but unpolished edge. Learning how to cut granite properly requires training and practice and expensive mistakes.
How To Polish Granite
Depending on the level of automation in a fabrication shop, the granite edges are completed by machines or by hand.
Huge computerized stone routers (CNC machines) and small hand operated routers are used to shape the edges of stone into bullnose, ogee, dupont, waterfall, and many other granite edge shapes.
These same machines can polish the edges to make them shine like the top face of the stone. Shops that do handwork use handheld grinder/polishers with 4″ round diamond disks to polish edges . . . a real art. All work is done using water to eliminate dust in the air.
Cutouts And Granite Sinks
Sink, cooktop, and faucet holes can be cut using CNC machines or by hand. If an undermount sink is to be used, the hole will need its sides polished since the sink won't cover the sides. See Granite Sinks.
Fabricators known for quality work will always rod the countertops where sinks and cooktops will be cut. In other words, they flip the tops over, grind two channels in front of and behind the cutout location.
Then they glue steel rods in the channels. Rodding Granite tops gives them extra strength for installing and for future use.
Final Setup & Granite Installation
All the finished tops are placed together to resemble the final layout of the granite countertops. The fabrication process usually takes 1 to 2 days for an average kitchen.
The finished countertops are transported to your home, placed on cabinets, and glued down. Some final cutting and polishing may be done on site. Click granite install to see how granite counters are installed.
Granite Resurfacing
Granite Transformations claims to offer an "Extremely Durable & Amazingly Easy to Install" alternative to a traditional granite counter.
Their products install over your existing counters, splashes, and other surfaces such as bathroom vanities without the mess, demolition or stress of a traditional granite or natural stone counter install.
What is the best granite sealer?
Granite Sealer, Cleaner, Soap Film Remover Kit
Granite Care Kit Platinum combines the best granite sealer and daily cleaner with a superior soap film remover for granite countertops and you save big!
MB-4 Sealer will prevent liquids from being absorbed by all natural stones.
MB-5 Marble Granite and More Spray Cleaner is your daily cleaner for natural stone including granite countertops.
MB-3 Soap Film and Mineral Deposit Remover is the best product to remove unsightly and unsanitary soap film, scum, and hard water deposits.
Only $72.32

Is Your Granite Sealed Properly?
As professional granite installers, we provide MB-4 to all our customers as part of a stone care kit.
We researched and tested several stone sealers before choosing MB-4. With more than 10 years of proven performance using MB-4, it's the only sealer we'll use.
Don't trust your granite investment to anything else . . . but MB-4.
Why should you seal granite? Granite is a natural product and inherently porous. It can stain.
Many granite companies use poor quality silicon or siloxane based sealers that require re-application every 6 months to a year. These sealers create misconceptions about sealing granite.
MB-4 is a fluorocarbon alphatic resin sealer. Unlike silicon sealers, it will not evaporate or go through any type of natural deterioration. MB-4 sealer for granite prevents liquids from being absorbed by all natural stones – marble, granite, travertine, and limestone – and comes with a 10 year warranty.
Applied properly, this sealer will last 10 to 15 years and you don't need to reapply before then! Full instructions and you're done in minutes! Click on "Sealing & Color Enhancing" on the MB Stone Care Site.
$47.45
As a granite countertop fabricator and installer, I was approached by Angie's List but it wasn't for a paid listing. When dealing with contractors of any kind, quality referrals are your best way to avoid the frustration and hassle. And it's why you should consider a referral source like Angie's List to help you find any kind of contractor, not just granite fabricators and installers.
Angie's List has been around for over a decade and contractors cannot pay to be listed or referred. Even though I've been in the building trades for years, I use Angie's List myself, everything from car repair to medical providers. If you can get it, try the Angie's List Free Trial otherwise click here for an automatic 45% discount using this.
Return to Countertop Materials