How To Repair Granite Countertops
"Don't pay to fix that chip, crack, or bad seam. Repair your own granite countertops with better results than most pros."
Here's How Easy Granite Repair Is!
Deluxe Natural Stone Repair Kit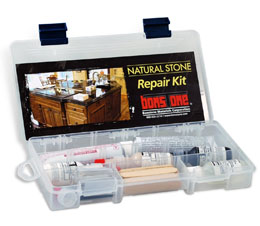 Deluxe Granite Repair Kit Saves You Money . . . Stone repair work can be difficult and requires the skill, craftsmanship, and knowledge of specially trained contractors. Most granite fabricators have personnel who can perform repairs on site and can offer their service for a fee.
Unfortunately, too many granite fabricators will not repair other people's work. In fact, in many cities, you'll have a tough time finding anyone to do a small repair job.
For that reason, I recommend a do-it-yourself granite repair kit that's easy to use even the first time you try it. I'm working on some instructional videos to help you get a professional job and will upload them when they're ready.
Granite & Marble Repair Kit Saves You Money!
The Natural Stone Repair Kit lets you easily repair your own granite countertops and save hundreds.
So called "experts" are usually not experts at all. And they'll charge you much more than what is fair.
This unique and convenient kit was developed for the restoration and repair of granite, marble, and limestone countertops. This kit enables you to create any on-site color replication of your stone.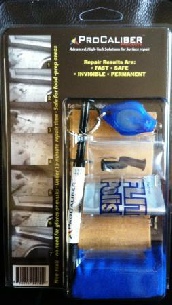 How to fix granite countertops. Everything you need for do-it-yourself granite repair and natural stone repair. The ProCaliber Granite & Marble Repair Kit lets you easily repair your own granite countertops and save hundreds. The $28 kit gives you everything you need to repair granite cracks and chips … in only 15 minutes!
Repair . . . Granite, Sandstone, Marble, Travertine, Limestone , and all other Natural Stone Tops.
Comes with complete instructions and enough material for 5 –10 repairs. It's easy – here are the steps:
Prepare damaged area
Mask the area with tape
Apply acrylic gel with syringe applicator
Apply curing strip
Illuminate with UV LED light ( included)
Clean and buff area with polish (included)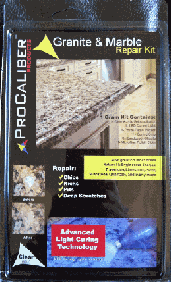 Actually, everything you need is included. The clear flowing gel brings out the natural pattern of any color or shade of natural stone eliminating the need for color matching.
Kit Contains:
1-gram LCA repair gel syringe
2 syringe tips
1 curing strip
3 sheets of sandpaper
Polishing paste packet
1 microfiber polishing cloth
1 LED curing light
I've been in the granite business for 15 years. I know it's difficult to find granite professionals who will do small repair work.
Besides, the so called "experts" are often not experts at all. And they'll charge you much more than what is fair.
So give the ProCaliber Granite & Marble Repair Kit a try. You can't go wrong.such as your granite fabricator determine the need.
Only: $28.99

Granite Countertop Scratch Repair Kit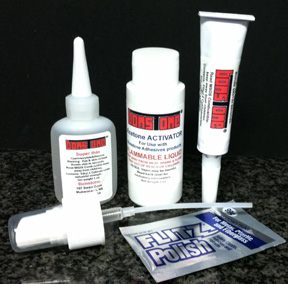 Bonstone Scratch Repair Kit For Cracks in Polished Granite Countertops & Floors
The Granite Scratch Repair Kit lets you fill in scratches and cracks on polished granite and natural stone surfaces – countertops and floors. You can perform your own high polished repairs without using any polishing pads. Use just a dab of polishing cream to polish and complete your repair.
Only: $29.95
Watch travertine repair
Granite Fabricators helps you find qualified makers and installers of granite in your area.
Granite Seams shows how to spot a good seam or how to make your own.
See Granite Support Brackets for unique ways to support your counters along with several sources for purchasing brackets.
Rodding Granite is the secret to countertops that don't crack. Here's how it's done and why you need to ask your fabricator if they include it.
Granite and Marble – Knowing the characteristics of natural stones will help you decide which ones will suit your needs on counters..
Before you hire any contractor, check Angie's List first!
Return from Granite Repair to Granite Install