Granite cleaning and sealing is horribly misunderstood.
Stone fabricators and stone sales people all too often have no clue about cleaning granite or proper maintenance of the stones they sell and install (and seal!).
Their tips on granite countertop cleaning leaves something to be desired.
This is obvious when they recommend generic cleaners or home-brewed concoctions for daily care of natural stone tops.
Care and Precautions
Certain habits can eliminate maintenance issues with your natural stone and granite countertops. Use coasters under all glasses, particularly those containing alcohol or citrus juices.
Many common foods contain acids that can dull or etch the surface of many calcium based stones. Use trivets or mats under hot dishes and placemats under china, ceramics, silver, or other objects that can scratch the surface.
Granite counters don't usually need the same care as other stones.
Granite spills
Blot the spill with a paper towel immediately. Don't wipe the area, it will spread the spill. Flush the area with plain water and mild soap and rinse several times.
Dry the area with a soft cloth. Repeat as necessary.  If your granite was not properly sealed and you get a stain, refer to Stain Removal Procedures to remove it.
Glass cleaner?
Can you clean granite with glass cleaners like Windex?  
The fact is, glass cleaner can permanently damage granite counters.  The damage caused is mostly pitting and dulling of the surface and it doesn't happen right away.
What's more, if your particular "granite" is a stone that needs to be sealed, the impregnator/sealer itself can be damaged by the glass cleaner eliminating its ability to block stains.
See details on sealing natural stone.
Stone Wipes are convenient and easy to use! –Granite Stone Wipes.
Dish soap?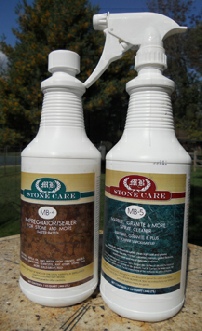 How about a little dish soap and water for granite countertops cleaning? Would that damage your granite?
No, it wouldn't, but think about this . . . Try washing your hands with water and dish soap, then put them under running water and see how long until they are rinsed off well.
To have such a thorough rinsing of your granite countertop, you would need to use a garden hose!
So, what happens if you decide not to use a garden hose to rinse your countertop?
It's simple – a soapy film will remain on the stone surface, even if you dry it with a towel.
In the beginning you won't notice it, but as you keep cleaning your countertop this way, the soap film will build-up and, within a few months, your beautiful stone won't be as shiny as it used to be anymore. You will have to remove all the soap scum, that is now caked on your countertop, by using a specialized granite cleaner. Not a good way to show off your beautiful granite.
There are companies out there that invest considerable amounts of money to formulate specialty granite cleaners that are safe on all natural stone. Why do they do that if any glass-cleaner or dish soap could do the job?
If you have cleaned your granite tops with dish soap, you can restore dull granite with MB-3 Soap Film Remover.  Simply spray on and wipe away soap buildup.  This will return the shine to your granite tops.
So what should you use for cleaning granite countertops?
NEVER use home-brewed concoctions (such as water and dish soap, or water and vinegar) for granite cleaning.
NEVER use generic cleaning products (such as glass cleaner, etc.), unless their label specifies that are safe on natural marble ALWAYS use cleaning agents that are specifically formulated to deal with the unforeseeable makeup of natural stone.
The idea of having to buy specialty cleaning products for your natural stone countertops may be somewhat annoying, but it's your best bet if you care about your investment.
Restore granite shine by removing soap film buildup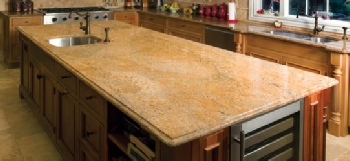 As a fabricator and installer, we always degreased countertops and gave them their final cleaning with denatured alcohol.
Denatured alcohol, it turns out, does wonders for cleaning granite and cutting through film buildup on your counters prior to sealing granite.
The result is the original shiny surface.
Cleaning granite countertops should only be done with specialized cleaners, not Windex or ammonia.  The best performing product we have found is MB Stone Care MB-5 Marble, Granite and More Spray Cleaner.  We have provided this to all our customers as part of a stone care kit when we install a new countertop and when we show them how to clean granite.
You should clean your counters daily using a specialty product for stone, such as MB-5.   Use it full strength on the cooking and eating areas. Use it diluted in a proportion of 1:1 with water in lighter duty areas. If you're concerned about disinfecting (after handling raw poultry, vegetable, etc.), use MB Stone MB-15, Stone Cleaner/Disinfectant. You can occasionally "brighten-up" your shiny countertop, with MB-13 Polished Stone Dressing. All its components are rated "food-grade".
Do not use products that contain lemon, vinegar, or other acids on marble or other calcareous stones.  See Marble Care for instructions of cleaning marble.  Do not use scouring powders or creams; these products contain abrasives that may scratch the stone.
Granite care and cleaning is simple and not time consuming. You should never even need to deal with stains and your granite will look great year after year.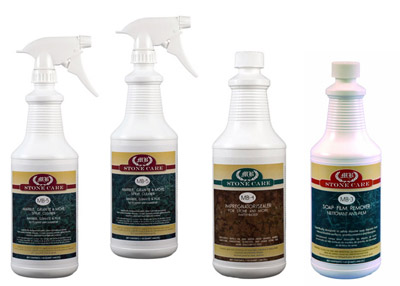 Platinum Plus Granite Care Kit

"Green" Granite Cleaner
Return from Granite Cleaning to Granite Care Guide