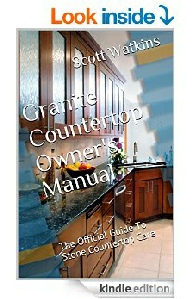 Granite care guidelines are seldom provided when you purchase stone countertops. Or the instructions you're given for granite countertop care came from an installer or helper who has never been properly trained in the science of stone care.
This isn't a slam against fabricators and installers, it's just a fact. Wouldn't it be nice to have an owners manual to show you proper granite countertop care and how to keep your stone tops looking great for years?
Well . . . here is the official insiders guide to countertop granite care.
Click on Professional Granite Care Products to see the only cleaners and sealer for your stone counters that we have used on literally thousands of granite countertops.  See limestone countertops care if you have limestone in your kitchen.
See Kitchen Remodeling Help for tips and advice to remodel your kitchen.
Making and Using a Poultice
Sometimes stone top care requires removing stains with a poultice. A poultice is a liquid cleaner or chemical mixed with a white absorbent material to form a paste about the consistency of peanut butter.
The poultice is spread over the stained area to a thickness of about ½" with a wood or plastic spatula, covered with plastic, and left to work for 24 to 48 hours. The liquid cleaner or chemical will draw out the stain into the absorbent material. Poultice procedures may need to be repeated to completely remove a stain.
Poultice Materials
Poultice materials include kaolin, fuller's earth, whiting, diatomaceous earth, powdered chalk, white molding plaster or talc. Approximately one pound of prepared poultice material will cover one square foot.
Do not use whiting or iron-type clays such as fuller's earth with acid chemicals. The reaction will cancel the effect of the poultice. A poultice can also be prepared using white cotton balls, white paper towels or gauze pads.
Oil Based Stains
Poultice with baking soda and water OR one of the powdered poultice materials and mineral spirits.
Organic Stains
Poultice with one of the powdered poultice materials and 12% hydrogen peroxide (hair bleaching strength) OR use acetone instead of the hydrogen peroxide.
Iron Stains
Poultice with diatomaceous earth and a commercially available rust remover. Rust stains are particularly difficult to remove and may require a professional.
Copper Stains
Poultice with one of the powdered poultice materials and ammonia. Biological Stains. Poultice with dilute ammonia OR bleach OR hydrogen peroxide. DO NOT MIX BLEACH AND AMMONIA! THIS COMBINATION PRODUCES A TOXIC AND LETHAL GAS!
Applying the Poultice
Prepare the poultice. If using powder, mix the cleaning agent or chemical to a thick paste the consistency of peanut butter. If using paper, soak in the chemical and let drain. Don't let the liquid drip. Wet the stained area with distilled water.
Apply the poultice to the stained area about ¼ to ½ inch thick and extend the poultice beyond the stained area by about one inch. Use a wood or plastic scraper to spread the poultice evenly. Cover the poultice with plastic and tape the edges to seal it. Allow the poultice to dry for about 24 to 48 hours.
The drying process is what pulls the stain out of the stone and into the poultice material. After about 24 hours, remove the plastic and allow the poultice to dry. Remove the poultice from the stain. Rinse with distilled water and buff dry with a soft cloth.
Use the wood or plastic scraper if necessary to lift the poultice off the stain. Repeat the poultice application if the stain is not removed. It may take up to five applications for difficult stains.
Care of granite countertops is simple and not time consuming. You should never even need to deal with granite stains and your natural stone tops will look great year after year.
What's the best sealer for granite countertops?
Should I use special granite cleaner for my countertops?
Download the Granite Countertop Owner's Manual
Can Angie's List help me find qualified granite countertop fabricators in my area?
Will a UV light wand make my granite counters cleaner?
See Cleaning Stainless Steel Sinks for advice and tips to keep your sinks looking new
See Granite Repair for tips and resources to fix damaged and chipped tops
Radon From Granite Countertops – Is this a problem you should be worried about?
Remodeling Cincinnati – Contractors, Suppliers, Fabricators, and Real Estate Pros
Return from Granite Care to Homepage