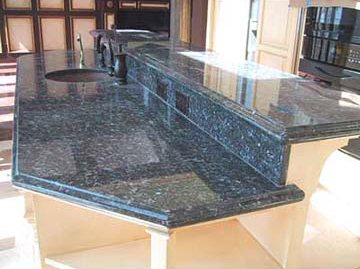 A granite backsplash can put the finishing touch on your granite countertops.
Not only does the backsplash hide the transition line of the wall and the counter, but it offers protection from liquids getting to the wall as well.
Although a 4 inch tall strip of granite kitchen backsplash set on top of your counters is common practice, other splash choices are available.
Here are the latest granite splash ideas and why you may need a full height granite backsplash.
How To Choose A Granite Kitchen Backsplash
If you're staying with a granite splash, you can vary the height of it.
Full height granite splash that covers all the space between the countertops and the bottom of the cabinets, can have a dramatic impact on your kitchen.
Keep in mind, full height backsplash can add a lot of cost because it increases the square footage of stone in your project.
Spice up your granite countertops with custom tile backsplashes
Custom – made backsplash by Mosaic Sphere Studio
Click to see more beautiful mosaic backsplash masterpieces by Yulia Hanansen
Tile can be ceramic or natural stone. Granite tile backsplash usually covers the entire space between the counter and the cabinets.
Sometimes tile is used along with granite, with the tile starting just above the 4 inch high strip of granite. This can also get expensive.
Stainless steel is another material found on backsplashes. It's usually located behind a cooking surface for protecting the wall from grease splatter.
Backsplash for granite counters serves a functional role, but your choice of material for the splash is more an issue of aesthetics than anything else. A backsplash made from granite in your kitchen or bath can be both functional and visually appealing.
Onyx Backsplash
For a dramatic difference in your kitchen, consider using onyx for the backsplash. Onyx is translucent and can be backlit, providing a beautiful glowing compliment to your kitchen counters.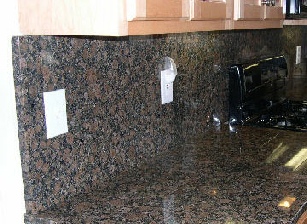 Newly installed full height granite splash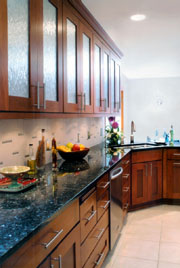 Stainless Steel Backsplash
Stainless steel backsplashes and trim are another great material for protecting walls behind sinks and cook tops in granite kitchens. Stainless steel (or even copper backsplashes) are functional, easy to clean, and easy to install. They add an accent to your kitchen that other materials can't.
Online Metals offers a line of premade stainless and copper backsplashes with a hemmed edge for protection. They also offer the trim and molding strips to put the clean, finishing touch on the installation.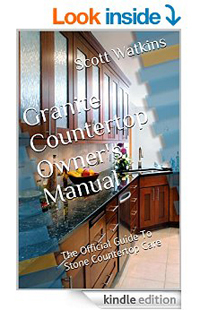 "Here's the Granite Countertop Owner's Manual that you won't get with your new countertops!"
Return to Granite Buyer's Guide